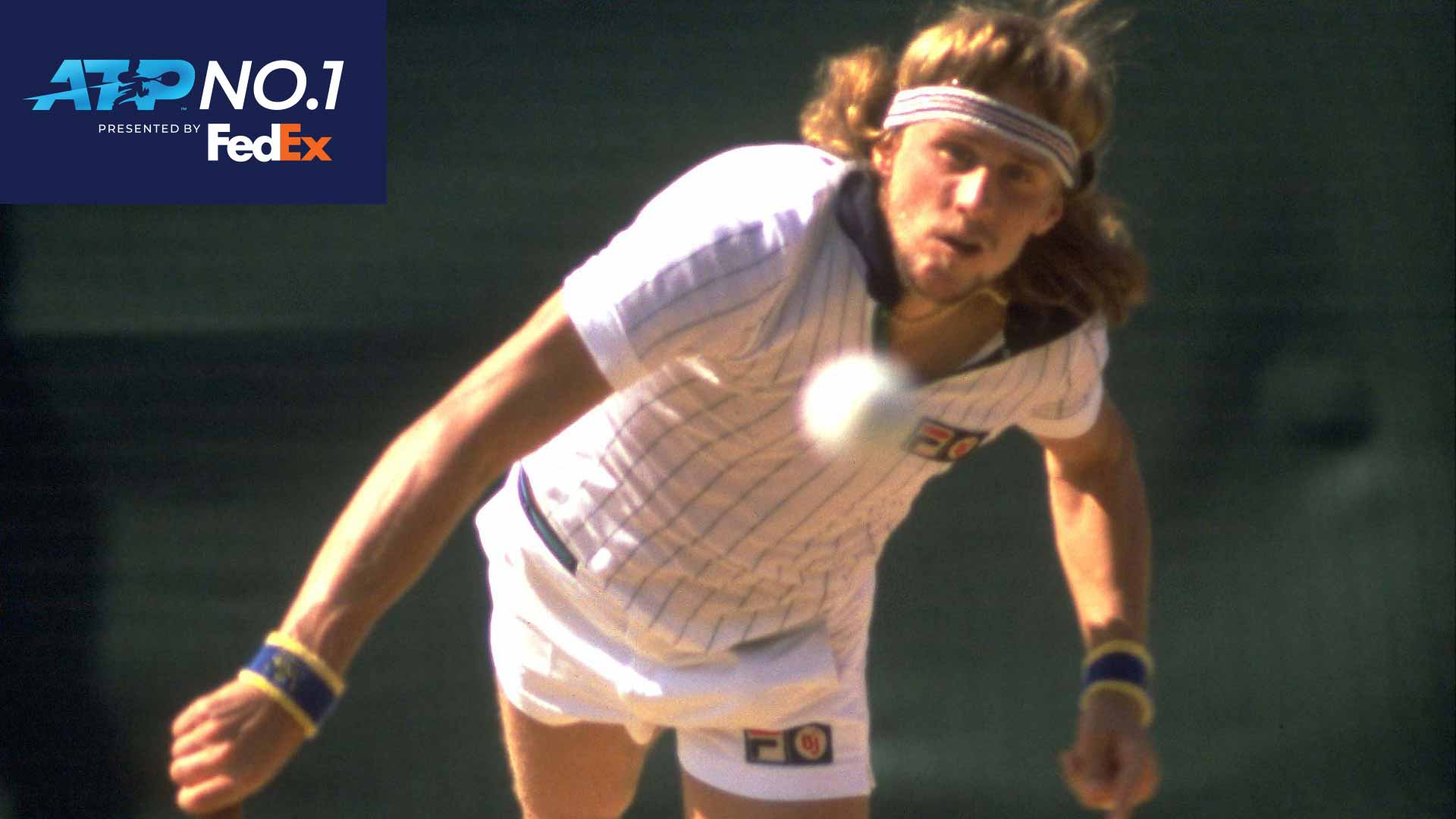 In the fourth profile of a series on the 26 players to rise to No. 1 in the FedEx ATP Rankings, ATPTour.com looks back on the career of Bjorn Borg. View Full List
First week at No. 1: 23 August 1977
Total weeks at No. 1: 109
Year-End No. 1s: 1979-80
As World No. 1
Bjorn Borg rose to No. 1 in the FedEx ATP Rankings for the first time, for a single week, at the age of 21 on 23 August 1977. His sixth and final stint at No. 1 lasted 46 weeks, between 19 August 1980 and 2 August 1981. He was the year-end No. 1 in 1979 and 1980 and sat at the summit of professional tennis for 109 weeks. "It's tough when you're No. 1," said Borg. "You don't have any private life, you can't even walk anywhere. I think that was one reason why I lost my motivation to play tennis." He was ranked in the world's year-end Top 10 across eight straight seasons between 1973 and 1981.
Grand Slam Highlights
Borg made his major championship debut in 1973 at Roland Garros, where he reached the fourth round and subsequently returned to win 46 of his next 47 matches in Paris (49-2 overall record), including title runs in 1974-75, 1978-1981. Across the English Channel, the Swedish baseliner was also making his mark at Wimbledon (51-4 record, .927), where 'Borg Mania' reached new heights as he won 42 consecutive matches and earned five straight crowns between 1976 and 1980. Often, against the best players at SW19, he serve-volleyed off his first delivery. Borg's legendary feat of three Roland Garros-Wimbledon title doubles has since been achieved twice by Rafael Nadal (2008 and 2010) and Roger Federer (2009). In 16 major championship appearances, between 1977 Wimbledon and the 1981 US Open, Borg won nine trophies from 14 finals. He reached the US Open final on four occasions, in 1976 (on clay) and in 1978, 1980-81 (on hard courts) and competed at the Australian Open only once, as a 17-year-old in 1974. Borg's four-set loss to John McEnroe in the 1981 US Open final was his last major championship match (141-16 overall record). "I think Bjorn could have won the US Open," said Arthur Ashe. "I think he could have won the Grand Slam. But by the time he left, the historical challenge didn't mean anything. He was bigger than the game. He was like Elvis or Liz Taylor or somebody."
Nitto ATP Finals Highlights
The Swede made five appearances at the season-ending championships, starting with his debut as an 18-year-old on Melbourne's grass in 1974. He went on to reach the 1975 final in Stockholm (l. to Nastase) and the 1977 final in New York (l. to Connors), before back-to-back titles in 1978 (d. Gerulaitis), when he went 5-0 during the week at Madison Square Garden, and 1979 (d. Lendl).
Tour Highlights
In partnership with Lennart Bergelin, his coach from 1971 to 1983, Borg won 64 singles trophies and 644 matches (.827). Borg, who won 16 titles as a teenager, first represented Sweden in the 1972 Davis Cup at the age of 15 and quickly rose into the Top 20. He won his first big title before his 18th birthday at the 1974 Internazionali BNL d'Italia in Rome, shortly before he started his love affair with Roland Garros. At 19, he punctuated a 19-match winning streak by helping Sweden capture the 1975 Davis Cup crown, and between 1976 and 1980 he won 90 per cent of his matches in four consecutive seasons. Towards the end of the 1981 season, his motivation waned, and he succumbed to burnout, announcing his retirement in January 1983 at the age of just 26. Growing his hair out once more, he attempted a comeback, using a wooden racquet, in 1991 and 1992, but failed to win a set. He subsequently joined the ATP Champions Tour.
Overall ATP Singles Match Win-Loss Record 644-135
Overall ATP Singles Titles/Finals Record: 64-25
Biggest Rivalries
Borg had two principle rivals, Jimmy Connors and McEnroe, during his 11-year career. Borg met Connors, who is four years older, on 23 occasions, leading 15-8 overall (5-3 at Grand Slams and 8-5 in finals). Connors, who won six of their first seven matches, ended Borg's 43-match winning streak in the 1978 US Open final, but Borg won their last match in the 1981 semi-finals. Because of their contrasting game styles and personalities, Borg's clashes against McEnroe became the era's biggest rivalry. The pair met just 14 times at tour-level (7-7), from their first meeting in the 1978 Stockholm Open semi-finals to the 1981 US Open final. Borg led McEnroe 7-4, but the American won their last three finals meetings, including at Wimbledon and the US Open in 1981.
Legacy
No modern career has been so brief, yet so bright. During the sport's boom of the 1970s, every player attempted to replicate the 'Ice Man', his controlled, emotional demeanour, but also the way he hit heavy topspin forehands and two-handed backhands (his best stroke) with a western grip. His stamina, endurance and steely focus made Borg practically unbeatable on the clay of Roland Garros and Wimbledon's grass. With Bergelin, Borg had more than a coach; he was a 'second' father and close friend, who protected his charge as Borg's celebrity shone and developed the style of play that dominates the sport today. Borg was massively superstitious, from sitting on the same chair beside an umpire, to the way he placed his racquets and towels. His first wife, former Romanian player Mariana Simionescu, once said, "He was always very placid and calm, except if he lost a match – he wouldn't talk for at least three days. He couldn't stand losing." His departure from the sport was a massive shock, just as his rivalry with McEnroe was at its peak. Today, alongside McEnroe, Borg is a team captain in the Laver Cup (since 2017).
Memorable Moment
On 5 July 1980, the world's two best players, Borg and McEnroe, contested one of the most compelling matches in the sport's history, pitting ruthless baseline play against a classic serve-volleyer. The match was unrivalled until the 2008 Wimbledon final between Nadal and Federer. Borg and McEnroe engaged in a 20-minute fourth-set tie-break, which saw Borg save five set points and McEnroe save five championship points, before the American prevailed 18/16. McEnroe could not break Borg in the deciding set and the Swede won his fifth straight Wimbledon title, 1-6, 7-6, 6-3, 6-7(16), 8-6, after four hours and 13 minutes. "The 1980 Wimbledon final with Borg – that's the one I was most proud of to be part of," said McEnroe, who ended Borg's five-title run at Wimbledon the next year. "It's talked about as one of the best matches people have seen so that certainly elevated me in a lot of different ways, even though I came out second in that one."
Connors on Borg
"Bjorn was a different breed. I threw my best material at him, but he would never smile, but that added to the charm when he played me and Mac. We were going nuts and losing our mind and he was sitting back like he was on a Sunday stroll."
McEnroe on Borg
"He had this thing about him that was inexplicable. I don't know what it is, why it is, but it is. Certain people have this incredible aura that I can't explain without having to do anything. It's like he got into his superman outfit. I did try in practice just for the hell of it, to be like that, but I couldn't do it in practice, so I wasn't going to waste my time in a match trying to be like he was. I felt like letting things out was healthier than keeping things in."
Borg on Borg
"They [my rivals] didn't really know what I was thinking or how I was feeling, if I am laughing or crying or disappointed or happy. They don't know that because I kept it all to myself. That didn't mean I wasn't boiling inside, but I would never let anyone see that."
Journalist/Broadcaster Graeme Agars on Borg
By almost all measures, Borg was hardly the classic highly strung tennis player. The incredibly popular 'heart throb' Swede wasn't called the 'Ice Man' for nothing: His steely demeanour and superb concentration meant his matches were all business, with rarely any real emotion shown. But the same can't be said for his wooden racquets, which were strung as tight as any professional player has ever used. It wasn't uncommon for them to be strung at 75-80 pounds, more than double what the average player uses. And because Borg's racquets were wooden and not made of the modern high-tech materials like graphite, they frequently used to succumb to the strain and that was often before he had even taken them on court. There were numerous stories on the Tour back in his day about the racquets exploding at the most inappropriate times, like the middle of the night in hotel rooms, in overhead luggage lockers on aircraft and during transit between venues. Although Borg was unmoved when it happened, those who were not aware of what the 'rifle shot' noise was were often terrified.
[ATP HERITAGE]
Source ATP World Tour

South Africa Today Sport – Tennis News
Disclaimer:
The views of authors published on South Africa Today are their own and do not necessarily represent the views of South Africa Today. By viewing, visiting, using, or interacting with SouthAfricaToday.net, you are agreeing to all the provisions of the
Terms of Use Policy
and the
Privacy Policy
.