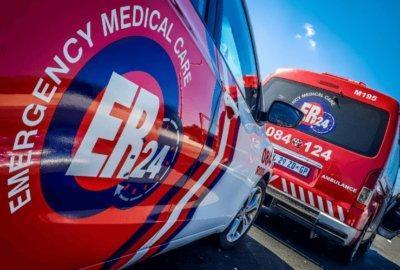 Three people were killed including a young man, a schoolgirl and a baby and seven others injured when a group of armed men opened fire on a taxi on the MR423 in Craiglea, KwaZulu Natal, last night.
ER24 paramedics and Provincial Services were dispatched to the scene at 20h15, arriving at 20h30. Local authorities were already in attendance.
On scene, medics found a taxi parked on the side of the road riddled with bullets. Several people were found scattered around the scene while two bodies were found lying inside the taxi.
Medics assessed the patients and found that two adults and a young boy had sustained numerous, fatal gunshot wounds. Nothing could be done for them and they were declared dead.
Seven other patients were tended to. Assessments showed that they had sustained gunshot wounds leaving them in a moderate to serious condition.
The patients were treated for their injuries and were thereafter transported them to Provincial Hospitals for further care.
The details…
---
Read more on Arrive Alive



South Africa Today – Accidents
Disclaimer:
The views of authors published on South Africa Today are their own and do not necessarily represent the views of South Africa Today. By viewing, visiting, using, or interacting with SouthAfricaToday.net, you are agreeing to all the provisions of the
Terms of Use Policy
and the
Privacy Policy
.