There is a big demand of Concrete Batching Plants in South Africa, In past 2 years, we sold about 5 sets of Concrete Batching Plant in South Africa, most of them are concrete batching plant with Skip Hoist, this image below is the skip hoist type concrete batching plant: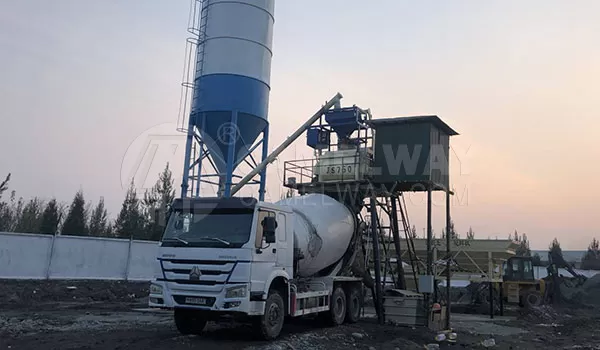 This type of concrete batching plant have many advantages:
Small footprint, the floor area of the main body of the batching plant can as small as 200 square meters, savings on the size of the construction site.
Easy and Fast to Installation, Camelway's Skip Hoist Concrete Batching Plants fastest installation record is about 4 days*.
Low cost, a Mini Skip Concrete Batching Plant Price can as low as about 20 thousand dollars(FOB Price with all component).
Easy and Cheap to transport, a Mini Skip Concrete Batching Plant can transport in one container(Without Cement Silos).
The Price of Concrete Batching Plant
If you have any plan to setup a concrete batching plant, the best way to get the cost is tell us your detail requirements, the key information we need to know is how many concrete you want to produce per hour, we will give you a precise price.
If you just want to know the price, I only can tell you that our concrete batching plant price range from 20000 USD to 300000 USD, because our product line is very extensive.
Camelway offer Concrete Batching Plants in South Africa as well as any counties aroud the world, we divided our concrete batching plant in such types, you can click the click to know more:
Contact Us:
Website: https://www.camelway.co.za
Email: [email protected]
Disclaimer:
The views of authors published on South Africa Today are their own and do not necessarily represent the views of South Africa Today. By viewing, visiting, using, or interacting with SouthAfricaToday.net, you are agreeing to all the provisions of the
Terms of Use Policy
and the
Privacy Policy
.